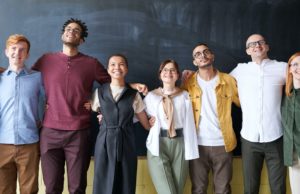 Whether you own a small marketing firm or a multi-million dollar logistics company, the success of your business depends heavily on your ability to attract and retain great employees. Having a creative, innovative, committed team is absolutely vital, especially in a rapidly changing world with a workforce that's overworked, underpaid and personally exhausted.
But while some companies are turning to traditional benefits like better retirement matches or vacation days to get better employees in the door, many are forgetting that running a people-focused business requires happy, satisfied and motivated employees. Employees who are there for more than a paycheck. Employees who enjoy what they do and feel rewarded and appreciated.
That requires an investment in your people beyond an annual pay raise. It requires an innovative approach to helping your employees grow as employees, professionals and individuals. Depending on your individual business and the people who work for you, the benefits you offer or policies you put into place will vary, but here are three opportunities we think you should consider, all of which start with giving your people time.
Time to Innovate: Big companies like Google give their employees 20 percent of their time at work to do knowledge work and innovate. It makes a big difference for them too – 60 percent of their innovations come from their internal team. We know that amount of time might not always be possible at smaller companies, but that doesn't mean you can't take inspiration from those policies. Support your employees going on walks at lunch. Give them a "big ideas" folder to keep track of those 2am ideas. Make sure you – and your employees – understand that taking time to think about innovating, solving problems and serving your customers and clients in bigger and better ways is important and then give them the time to make it happen.
Time to Engage: Most companies rely heavily on people working together as a team and, especially with so many employees working remotely full or part time, developing the trust that a true team needs to be successful can be a bit more challenging. Businesses of all sizes can combat this by giving employees time to spend together – even if it's playing Uno on Bunch or Pictionary on Zoom. Building those relationships between employees is important for your business as well as personal job satisfaction. Everyone likes to have a work friend, even if they are 1,000 miles away. It's important to give your employees time to get engage with each other.
Time to Develop: Employees – especially your Gen Z-ers – are hungry for professional development opportunities. This doesn't mean they expect you to have an education reimbursement policy for them to finish their master's degree, but it does mean that offering coursework, mentorships and growth opportunities is more important than ever. One thing to keep in mind: professional development does not need to be directly in line with their current work. If you have a social media manager doing great work, she might not be super interested in additional certifications within her own field. Maybe she's interested in learning logistics too? It's OK to let people expand their horizons and we promise that being flexible with that will improve employee satisfaction, workplace morale and retention rates.
If you need support in any of these areas or could use help improving your workplace culture by giving people time to grow, your local Growth Coach can help.