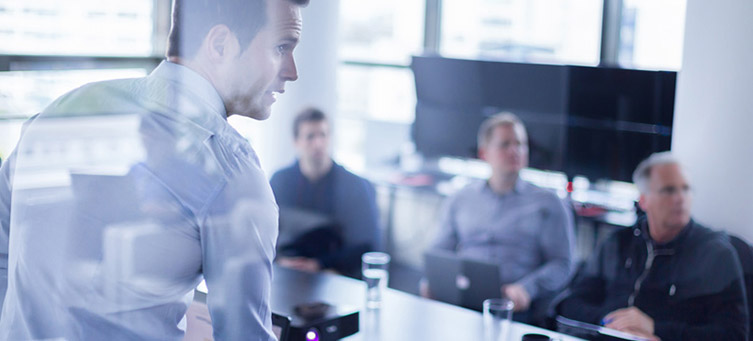 Strategic Planning to Increase Profitable Revenue Growth
Ongoing Accountability Produces Superior Results
Developing strong managers is one of the best investments a company can make. Imagine the benefits of having a management team focused on growing profits, streamlining operations, and improving customer satisfaction. Our Strategic Manager program uses high-impact quarterly workshops to develop managers and other key employees into true leaders who take charge and drive big results. Typical training and seminars don't work because the effects are temporary. Lasting and positive change can only occur when your managers engage in an ongoing development and accountability process specifically designed to bring out the very best in your team.
The Strategic Manager® quarterly workshop coaching sessions are conducted approximately every 90 days to create positive behavior changes necessary to see long-term sustained improvement. The program is designed to provide business development and strategic focusing coaching & accountability processes that address the toughest issues that most managers face.
The group sessions are designed to provide ongoing education and coaching so that immediate improvements are seen in performance and results. The process begins with a full day session that lays out the basics of strategic business concepts. Four full-day workshops are conducted over a period of one year to coach participants to become more strategic and effective managers. In turn, this will help their organizations operate more effectively, efficiently, and maximize revenue potentials.
How will Strategic Manager® help you?
Helps managers become more productive, focused, and effective.
Create momentum for continuous life balance and improvement.
Development of a proactive vs. reactive approach to business development.
Enhancement & improvement of communication styles and sales skills.
Delivered in a confidential, private group format, so it's interactive and affordable.
Managers leave with customized action plans tailored to their specific roles and goals.
After one year, your managers will qualify to participate in Strategic Mastery for Managers – an ongoing coaching and accountability process delivered in a roundtable format.
Set your business up for success now!
Contact The Growth Coach today at (214) 701-5152